Welcome to our event and activities page where you will find:
Events, activities and training provided by the Welwyn Hafield Community & Voluntary Service
Events, activities and training from our affiliated organisation
Local & national campaigns
Please use the search bar to narrow your choice.
FREE Hertfordshire/Herts. Suicide Intervention training – ONLINE
May 27, 2021 @ 12:30 PM

-

4:30 PM
Hertfordshire County Council have commissioned Harmless to deliver suicide awareness training. Join us online to learn more.
About this Event
Hertfordshire County Council have commissioned Harmless to deliver a an Suicide awareness and prevention accredited course.
Please note, you must be working in/supporting people who reside in Hertfordshire county to qualify for a funded place on this course.
For more information or advice on the courses being delivered please speak to a member of the Let's Talk Training team: training@harmless.org.uk
Suicide Intervention training
TARGET AUDIENCE:
For frontline staff, professionals and volunteers working with those vulnerable to suicide risk in Hertfordshire
Learning outcomes:
Improve knowledge and understanding of suicide
Awareness of myths and facts surrounding suicide
Understand the magnitude of suicide and identify risk groups
Recognise risk factors and warning signs for suicide
Understand how the COVID-19 pandemic has changed risk and suicide presentation
Recognise the wider impact of suicide
Identify effective risk assessing skills
Build skill and confidence in responding to and supporting someone in suicidal crisis, both short and long term
Understand how to implement effective practical support for someone in suicide crisis
Recognise protective factors and their importance of recovery and support
Discuss how and where to signpost individuals to appropriate help
Our online training is delivered via Zoom
Once registered, you will receive an email of confirmation. Access details for the session will be sent a week before the training date.
We will provide all delegates with frequent breaks during the session to ensure that screen fatigue is kept to a minimum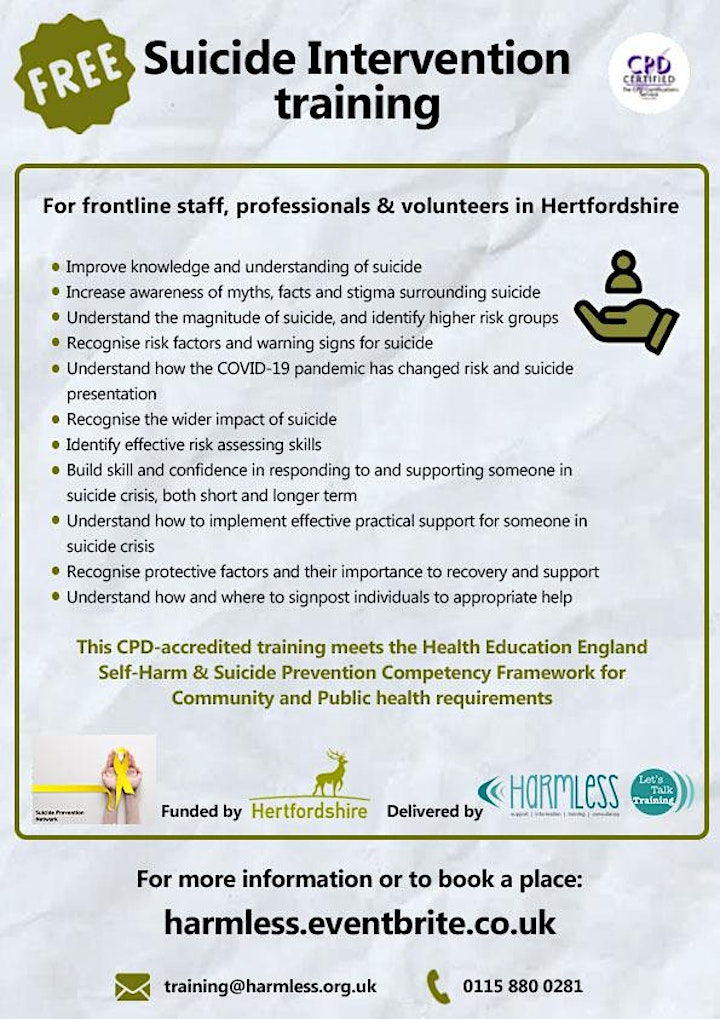 Related Events
If you would like to advertise your event or activity with the Welwyn Hatfield Community & Voluntary Service, please email:office@whcvs.org.uk